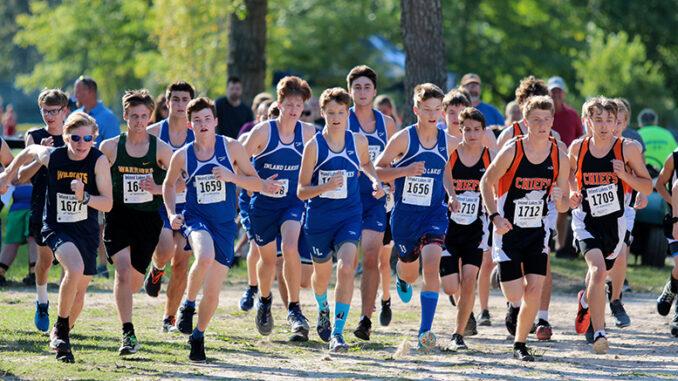 On Sept. 17, the cross country team hosted the Inland Lakes Invitational at the Cooperation Park. The course was relatively flat and there were some shady spots on the wood's trail. It was 79 almost 80 degrees outside that day. There was some gravel, but mostly grassy areas to run on. Top 20 metaled for girls and boys both.
"The boys ran well tonight, it was the first time they got to run a traditional 5K together. They performed well and realized they have a lot of hard work to do still. I'm looking forward to seeing them improve throughout the rest of the season," boys coach Brandon Beltz said.
"We were very pleased with the effort today. Liz and Lucy were making their debut at the 5K distance and this was the first time they were running together. We are looking forward to improve fitness and racing skills," girls coach Sarah Furman said.
"I felt that my team ran really well, but as an individual I don't feel like I did my best and I think I can improve next time," Hunter Bishop said.
Girls Results:
1. Miriam Murrell GSM 21:10 6. Christy Shank 23:54 10. Addelle Corps 24:14 22. Haivyn Feilder 26:39 29. Luci Bunker 29:08 30. Liz Wilson 29:20
Boys Results: 1. Carlos Gascho JoBurg 16:58 15. Austin Brege 20:59 16. Cherlie Kennedy 21:01 19. Evan Malzynski-FairChild 21:14 22. Nevin Tompson 21:20 23. Ty Tompson 21:21 26. Will Jacobs 21:46 32. Hunter Bishop 22:33 60. Josh Phillips 29:17
Middle school Results: 16. Ty Kolly 10:37 59. Kennadi Oboyle 13:41 91. Michaiah Penewit 19:29 92. Ryley Allen 20:02