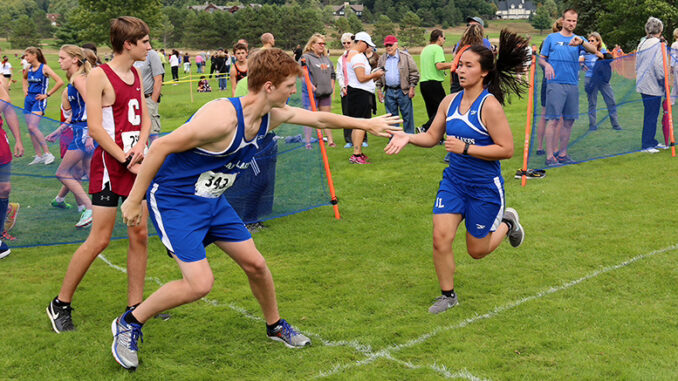 On Tuesday, Sept. 10, in Boyne City, the cross country team ran a total of 6 miles with a partner. The race consisted of a boy and a girl and each partner ran 3 miles with a break after they ran 1.5 miles. The race was on a relatively hilly golf course, and it was humid and hot. For many, it was a challenge to run in the weather conditions but it was very nice to have a break to take a drink and restart for the next part they had to run. Two of the teams metaled and everyone seemed to have lots of fun.
"I liked the partner race, because I was out of breath after the 1.5 miles, so it felt good to have a break and be able to rely on my partner," freshman Lucy Bunker said.
The Boyne Relays, Sept. 10, Boyne Mountain Alpine Golf Course 1- Emma Wachler/ Evan Boloman 34:45 (Charlevoix) 45- Addelle Corps/ Austin Brege 42:14 47- Christy Shank/ Ty Thompson 42:19 69- Haivyn Fielder/ Nevin Thompson 46:26 73- Lucy Bunker/ Evan M-Fairchild 47:42 46- Liz Wilson/ Will Jacobs 48:00
The Open Run 1- Jager Mix 18:35 5- Charlie Kennedy 20:02 8- Hunter Bishop 20:53 15- Garrett Hudson 21:49
"The co-ed meet was more of a speed workout, so the team had a good race and they worked on their foot speed for 1.5 miles," boys coach Brandon Belts said.
"The team did very well. There wasn't a lot of time drop-off from the first lap to the second lap witch is great, everybody ran really well," girls coach Sarah Furman said.