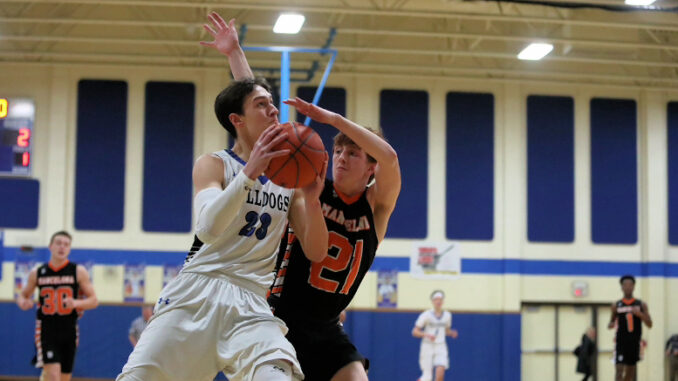 On Thursday Jan. 9, the Boys basketball team hosted the Mancelona Ironmen in the Bulldogs home opener. They all knew coming in that it was going to be a battle through the whole game.
The Bulldogs got off to a decent start making 6 shots to start the game to help the Bulldogs fight the first half. While the Ironmen mad 5 shots but had 2 threes in those 5 shots putting the Ironmen in the lead at the end of the first 15-13.
Going to the second quarter the Bulldogs did not shoot the ball well at all, as they only made 3 shots in the second including a three. But their free throws helped keep them in the game as they went 4 for 4 from the line in the second quarter. As The Ironmen made 5 shots, with one free throw to keep the lead going into the second half with a score of 26-24
The bulldogs were cold the entire third quarter as they only got 2 shots to fall the entire third with 1 three, and again free throws helped keep them in the game going 5 for 8 in the third at the line. As the Dogs were slow in the third the Ironmen were not going to let up as the put 17 up in the third quarter alone with 5 shots and 3 threes. while shooting 4 of 8 from the free throw line. taking the lead into the final quarter 43-34
In the fourth the Bulldogs were ready to fight but shots were still not falling as they made 3 shots in the fourth while shooting 9 of 15 from the free throw line, But was not enough to catch the Ironmen as they mad 3 shots in the forth but went 8 of 15 from the free throw line, The bulldogs lose there first home game with a score of 57-49.
The top scorers for the Bulldogs were Nathaniel Wandrie with 20 and Hunter Bishop with 7.
The Bulldogs will play another conference game at home Tuesday the 14th against Central Lake.